"I dream'd that as I wander'd by the way
Bare winter suddenly was changed to spring"
Percy Bysshe Shelley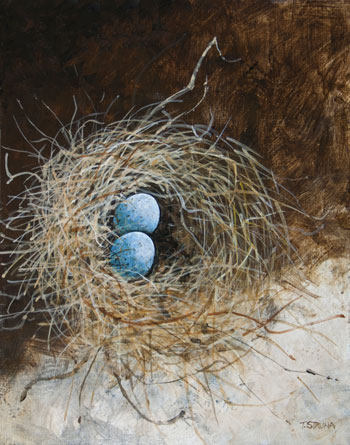 At Home
Acrylic on Panel

14" x 11"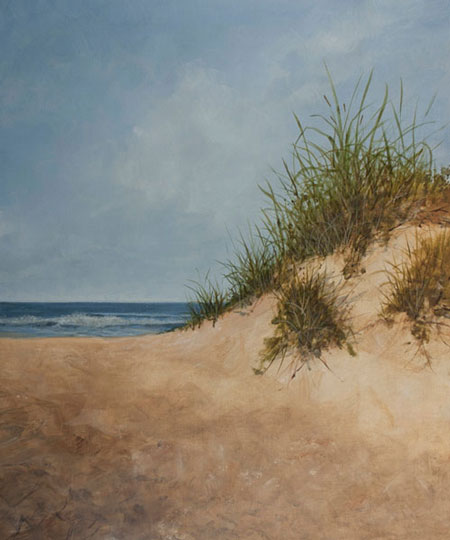 Pathway
Acrylic on Linen
24" x 20"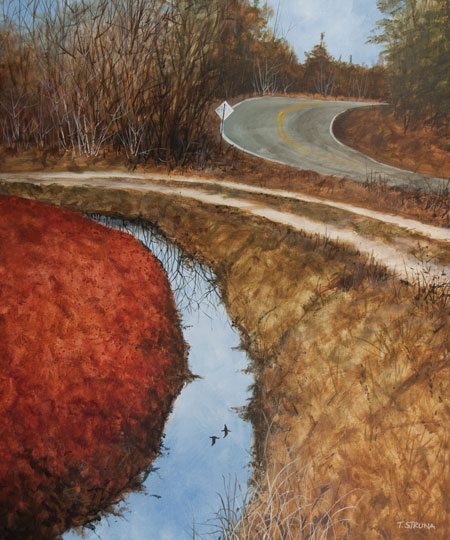 Bog Reflection II
Acrylic on Linen
24" x 20"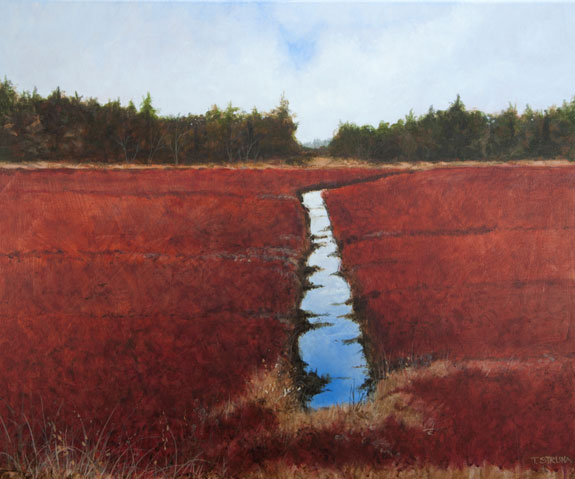 Bog Scape
Acrylic on Linen
20" x 24"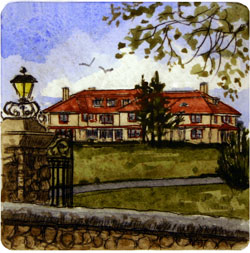 A New Engraving of Ocean Edge in Brewster!

Ocean Edge
Copper Plate Engraving with Watercolor

3" x 3" Plate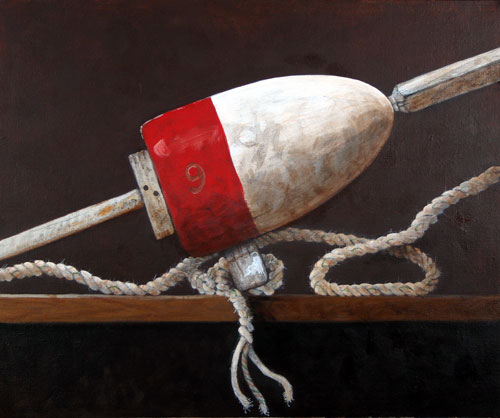 Nine
Limited Edition Giclee Reproduction
from an original acrylic on linen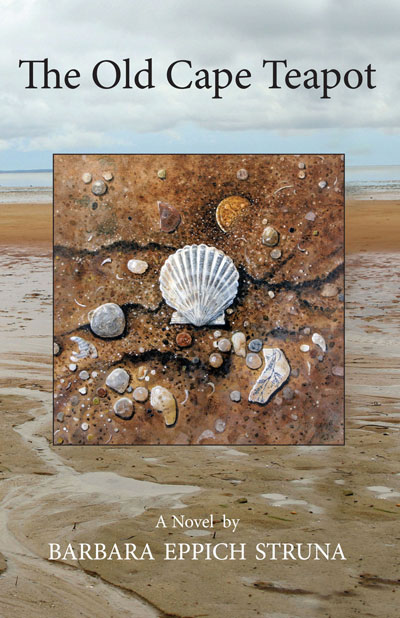 My mom's NEW book The Old Cape Teapot is NOW AVAILABLE!
Nancy Caldwell returns in the historical fiction, The Old Cape Teapot, to uncover the trails of two survivors from the wreck of the 1717 pirate ship Whydah. Armed with an old map and the knowledge that in pirate culture the looted riches were equally shared, she takes us from the tropical island of Antigua to Cape Cod searching for more treasure. Using alternating chapters between centuries, two stories link together to solve another mystery filled with danger and conspiracy.
The new book is available on our website and at the galleries, as well as numerous bookstores and specialty shops all over the Cape! Also available as an e-book on Amazon and Barnes & Noble and iTunes.
The cover is designed by my dad, and features an original acrylic on panel from his Square Foot Series. The series of original acrylics on 12" x 12" wood panels depicts the perspective of the viewer looking down as they would explore the Cape's beaches and paths. One Square Foot of Marconi includes a pottery shard similar to the piece my mom (and the contemporary character Nancy Caldwell) found on one of her beach walks. Marconi Beach is where the sunken pirate ship the Whydah was found in the late 1980s.
Click here for more information on the book!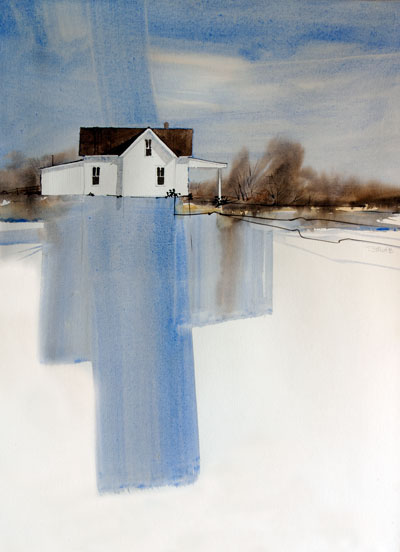 House Scape Watercolor 30" x 22" 1978
Earlier in his career, dating back to Northeast Ohio in the 1970s, my dad produced a series of paintings featuring old barns and farm houses with elaborate, stylized brush strokes that stretched down the paper or canvas. Recently one of these paintings returned to the studio, much to our delight. The painting (circa 1978) had been chosen for his third Ohio Watercolor Society juried exhibit. This travel exhibit was significant because he needed three accepted shows in a series to obtain his active Signature status with the prestigious society of watercolor artists. More than thirty years later, this past summer, my dad received a phone call from Kent State University (presumably the last stop on the exhibit) saying that they had found the painting in storage. Thanks to friends in Ohio, we were able to get the piece back. See it pictured on the left.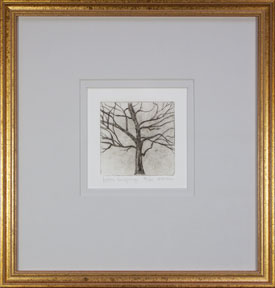 Since I opened the gallery in Chatham in 1998, my concentration has been on the business side of things, which is my true passion. However, this past year I experimented with some printmaking of my own - with a focus on winter trees and their bare limbs (A favorite subject for my dad, too!) It's been wonderful to work with him in the studio. I've always loved the drypoint method of printmaking but had never tried it myself. A few of these drypoint engravings are on display at the galleries.
before the spring Drypoint Engraving with Sepia Ink, 3" x 3", H. Struna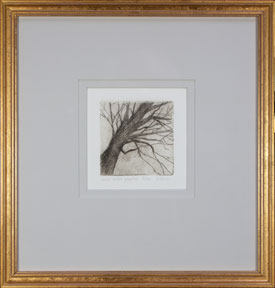 under winter branches Drypoint Engraving with Sepia Ink, 3" x 3", H. Struna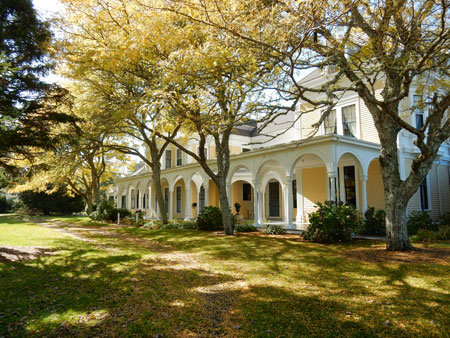 Also exciting news:
My sister Annie and new brother-in-law Eric were married at the Crosby Mansion on October 18, 2014!
It was a beautiful day for a beautiful couple!
Here are some pictures from the wedding at Crosby Mansion and reception at my parents' home in Brewster!
The leaves were a magnificent, golden yellow and they were falling ever-so-softly throughout the ceremony on the Mansion's front porch pictured here.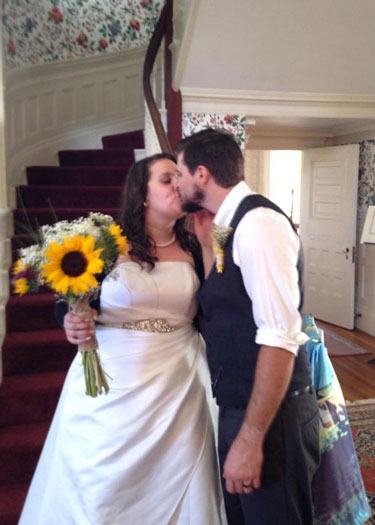 Annie and Eric!
October 18, 2014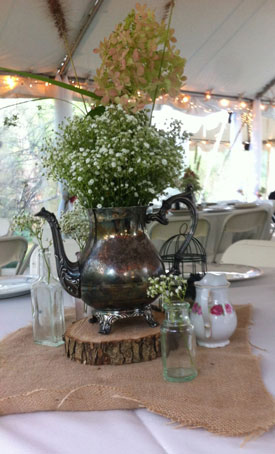 All of the centerpieces were unique bouquets of baby's breath, hydrangeas and dahlias in vintage teapots! Each table had a different arrangement!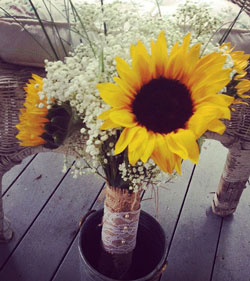 Annie made her own bouquet and used special pins from my grandmother.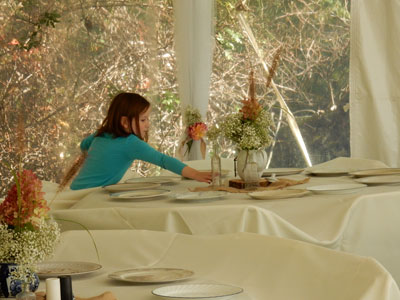 There were three tents set up behind the barn on my parents' property for the reception.
We were lucky to have had so many helpers!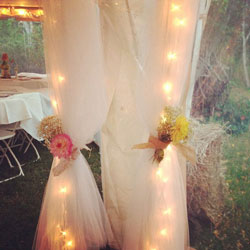 Little white lights were wrapped around all of the trees and inside the tents. Lovely arrangements of baby's breath and dahlias were displayed at every corner. It was an enchanting scene...
And at night, mingling along with the stars, the lights glowed and twinkled.
There was a fun photo booth and corn toss games! And music on the dance floor!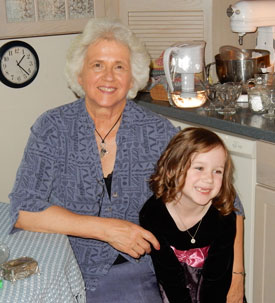 Family came from places near and far to celebrate the special day!
Here's Grandma and Casey before the ceremony.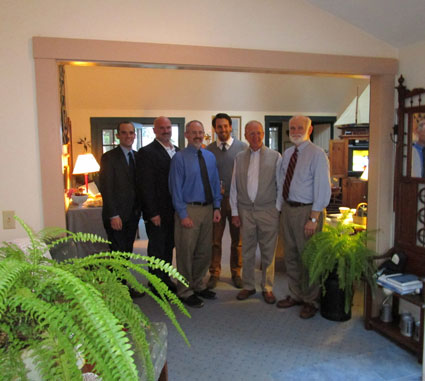 The Struna - Eppich men gathering for a picture before leaving for Crosby Mansion. Eric was already there.
Pictures at Crosby Mansion!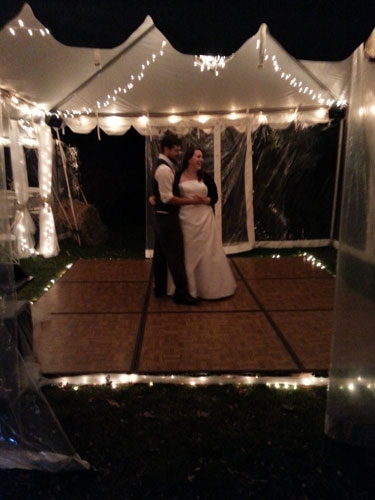 It was such a beautiful day - filled with happiness and love! The couple's first dance!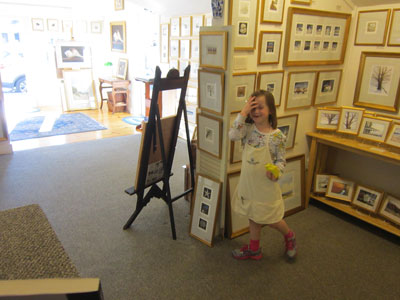 After the wedding, we were still celebrating and visiting with family!
Here's Casey helping me at the gallery! Notice her apron and tape measure!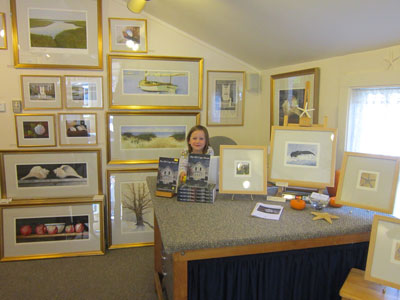 She was a great helper!
"And now we welcome the new year. Full of things that have never been." - Rainer Maria Rilke